Since this project started in 2013 it was always a pay-as-you-go service without any price increase since the day 1.
Now, 7 years later, we have evaluated that model and came to a conclusion that we need some changes. Changes that would support this business better.
We're not the biggest fans of a subscription model, but in this case we believe that this business decision is justified.
We're using a "subscription" word a lot here, but it's worth noting that as today, we will not offer recurring payments. You make all the payments explicitly, we won't charge you automatically.
If a paid plan is not renewed manually, it will be converted to a free plan after the expiration date.
Free/premium plans
Starting from 2020-11-21 will offer three plans:
– Free – limited to 2 uptime tests with with 5 minutes test interval and 2 application monitoring tests and no extra features like custom user agent or additional notification emails.
– Lite – limited to 10 uptimes tests (1 minute interval) and 10 application monitoring tests.
– Full – limited to 50 uptimes tests (1 minute interval) and 50 application monitoring tests.
Prices are as follows:
– Free – well, free.
– Lite – 2€ per month or 10€ in a yearly payment
– Full – 5€ per month or 50€ in a yearly payment
We've made those plans by carefully analysing our competitors and we believe this is still the best deal on the market.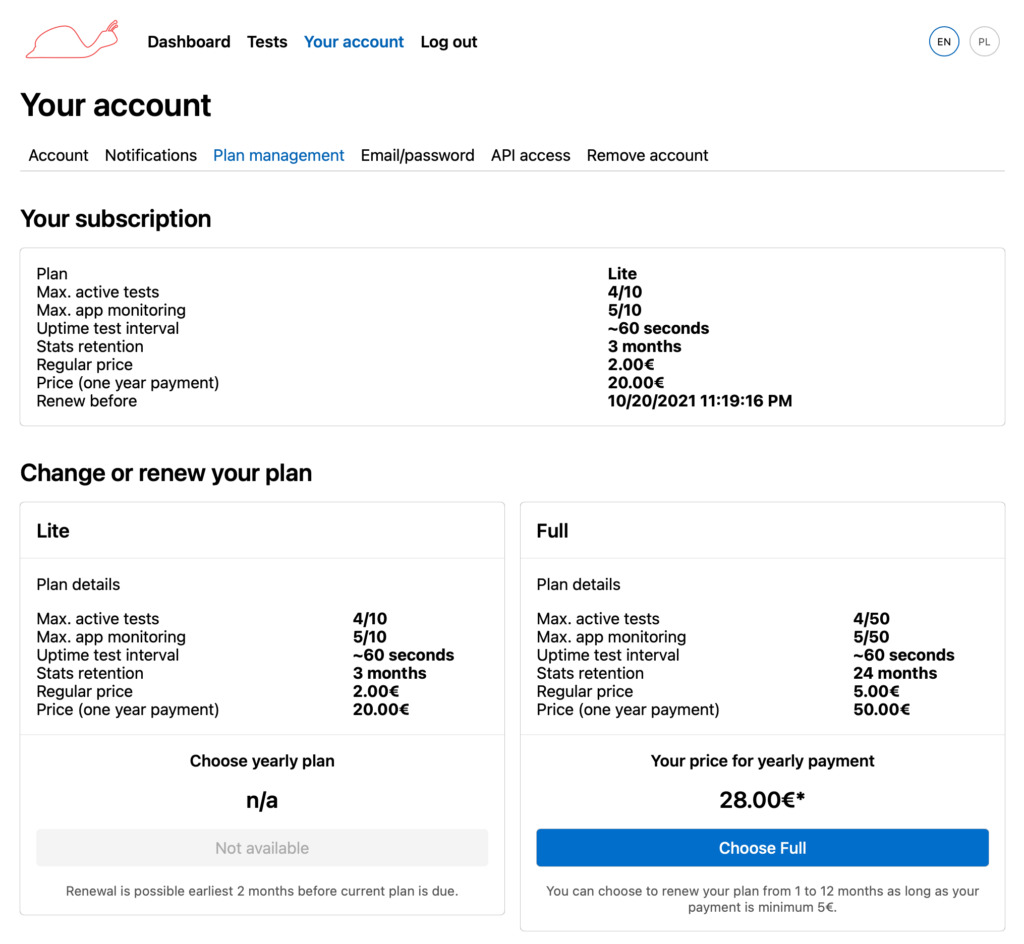 Release is scheduled on 2020-11-21.
During that day we will release all necessary changes to our servers, including small re-design of the web app, and we will start a process of migrating all accounts to the new business model.
Uptime testing and reporting will be affected during the release but it should not be longer than a few minutes.
We will send details regarding the migration of existing accounts in a separate newsletter.
We hope, that after reading this, you'd understand the reasons why the business model is changing and how this is going to improve the development of our service.